There are a variety of reasons why an individual is drawn to a career in a health profession.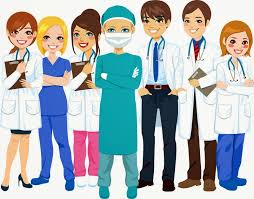 Most have a deep desire to "help others." Many are interested in science, and have a fascination with understanding how the body works. Others may be reacting to expectations from family members, or even seeking money, power or prestige. Understanding and acknowledging your own reasons for pursuing a career in the health professions is a critical first step.
There are also a wide variety of career options in the health professions, which require mastering differing amounts and types of knowledge and skills, and differing commitments of time and money in advancing to and through the profession. For example, one can help others through medicine not only in a clinical practice, but through other avenues such as teaching/academic medicine, public health, government, healthcare administration, industry, and medical research.
Degree programs abound in healthcare fields, which include allopathic (MD) medicine, osteopathic (DO) medicine, dentistry, optometry, nursing, podiatric medicine, veterinary medicine and physician assistant. One can focus on physical therapy, occupational therapy, public health, or pharmacy. There are allied areas of acupuncture and Oriental medicine, naturopathic medicine, chiropractic, dietician/nutritionist, genetic counseling, respiratory therapy, radiology, speech-language pathology and audiology.
A number of websites provide information about these careers and many more. ExploreHealthCareers.org is one such website, which not only provides information about the careers, but also helps you to explore whether a health career is right for you. The TCNJ Career Center can also help you to identify your areas of strength, and help you to consider your limitations, interests, likes and dislikes. Other tests and vocational aptitude surveys can help to determine if a health career is right for you.
However, the best way to explore service careers is to get out there and experience them! Volunteer at a hospital or clinic, or work with people who truly need help, even if it's not treating them medically. Explore your compassion and commitment, your dedication to service, your inner leader and collaborator sides, and your suitability and comfort in such situations. Engaging in such experiences will help you to focus on your skills, values, abilities, interests, and suitability for a career in the health professions.