Get your stuff together!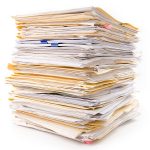 Be aware that providing materials and documentation to the MCAC and to the med school application service are two different, parallel processes.
TCNJ's MCAC needs certain documents and information in order to determine the level of their support for your application; and the application service (and the med schools themselves) need certain documents and information in order to determine your acceptance to a particular program. Thus, sending your TCNJ transcript to the MCAC does NOT get it sent to the application service for the med schools to see; there is a separate process, done with the assistance of Records and Registration, for getting transcripts sent to the application service.
The application service for the program type to which you are applying (amcas for MD programs, aacomas for DO programs, aadsas for dental programs, optomcas for optometry programs, and the like) has instructions online, detailing what you will need to provide to complete your application process. Make sure to read those instructions carefully! Hundreds of thousands of students have applied, and thousands have been put at a disadvantage for not following instructions.
Materials needed by MCAC
The TCNJ MCAC also has a particular list of items needed from each applicant for their file, so that the Committee can determine its level of support for your application, and generate a Committee Letter of Support. These documents should be sent to mcac@tcnj.edu, or to Room 202 in the Biology Department. These items consist of:
List of Recommenders
Please provide a list of the people whom you have asked to write a letter of recommendation on your behalf. If at a later date, you ask another person, or wish not to use a letter from a person already identified, please let us know that as well.
List of Schools
Please provide a list of the schools to which you are applying. Again, if this list changes, please let us know what schools you are adding to or deleting from the original list.
Transcripts
The MCAC needs a copy of your most recent transcript. The transcript can be an "unofficial" one from PAWS (pdf), and need NOT be an "official" one sent from Records and Registration with a raised seal. If you are applying the summer before your senior year, please supply the transcript after your spring, junior year grades have been posted. If you are applying the summer after you have graduated (or later), please supply your final transcript with all grades posted. PLEASE NOTE that the MCAC does NOT provide your official transcript to be sent to the application service to verify your application. You must request this official transcript from Records and Registration, through the procedure outlined in your amcas/aacomas/aadsas application.
If you have attended other institutions during your undergraduate career (summer class at another college, for example), please provide a copy of that transcript as well.
Medical College Admission Test (MCAT) Score(s)
Please forward to us a copy of your MCAT Score Report, which you will receive from AAMC (test administrators) approximately one month after taking the test. While TCNJ is able to access a site to see your score, we don't necessarily know when the score will be posted, and it is generally more efficient for you to send us the score report once you have received it. Please note that the MCAC strongly suggests that you NOT submit your application until you have an MCAT score and have shared it with the committee.
Copy of your application
Once you have competed and submitted your application to the appropriate application service, please send us a copy (hard copy or electronic) of your application. That way, we will have the same information about you that the med schools will have once they receive your application, so that there are no discrepancies. The applications are generally not able to be completed until June at the very earliest.
Form for or link to service's Letters Request
Once your application is submitted and verified by the application service, it will be available to be supported by letters of recommendation, either from the TCNJ Med Careers Advisory Committee, or from individual recommenders. Each application service provides a particular method of linking one or more letters of recommendation directly to your application.
In AMCAS, you must create a Letter Request Form, which provides an ID number for the letters, and a form which must accompany the upload of the letters to their secure letter site. Please provide this Letter Request Form to us. Since the form requires you to identify the letter type, you may not be able to create this form until the Committee has reviewed your file and determined how it will support you (through a Committee Letter or a Letter Packet, or a combination of the two). This can be done after you have submitted your application with no delay in processing. Please list Dr. Amanda Norvell, Chair of the Medical Careers Advisory Committee, as the Contact and Primary Author for a Committee Letter or Letter Packet.
In AACOMAS, you will create and send a link to Dr. Norvell (who, as Chair, is the official sender of the Committee letter), which will enable the Committee to upload letters using that unique link.
OptomCAS and AADSAS also use similar systems of sending an electronic link that you create within the application portal to a member of the Committee.  The Committee can then  use that link to upload letters to the secure site.
Letters of Recommendation
Letters of recommendation on your behalf are obtained by submitting to each of your recommenders or evaluators (after asking them first!) a Recommendation Letter Request Form. You must complete the top third of the front page of the form and sign it, agreeing to waiving your right to see the contents of the letter to be written. The letter writer will complete the remainder of the front side, and the back side, of the form, and then send it with their letter of support to the campus or email address provided on the form. The letters will then be placed in your file. (Also, be sure to read below, "Additional Notes about Letters of Recommendation and the Committee Letter").
Additional Notes about Letters of Recommendation and the Committee Letter
Letters of recommendation are a key component of your application. For med school, you should seek five substantive letters (three for dental) from people who know you well: professors, research advisors, persons in the medical field, and/or professional mentors (e.g., a supervisor from the tutoring center). Ideally, at least three letters would come from professors in the sciences, and often an additional letter from a faculty member from outside the sciences. If you are applying to DO schools, it is strongly recommended (and required by some schools, like PCOM) that one of your letters of reference is from a DO.
These confidential letters are sent (either electronically or by standard mail, or preferably both) directly to the committee chair by the writer – not by the student – so that the integrity of the comments is uncompromised. Recommendation letters should NEVER come from a family member, not even one in an appropriate medical/professional field.
When the file is complete, it is reviewed by the committee in order to determine whether the committee will prepare a composite (or committee) letter of recommendation, which provides an overall assessment of potential and "stamp of approval" by the committee for the applicant. A committee letter is strongly recommended for those students applying to MD, DO, veterinary, optometry, podiatry and dental school. (See additional notes about Letters of Recommendation under "Steps to Take" section of this website).
If it has been determined that a committee letter will be written, the individual letters of recommendation written by your evaluators will be appended to the committee letter written on your behalf into one package; AMCAS considers this one "Committee Letter." If it is determined that we cannot write a committee letter on your behalf, we can still send a "Letter Packet" comprised of the individual letters written by your evaluators. It generally takes at least two weeks (or longer) for the committee letter to be written, compiled with the individual letters, and forwarded/uploaded to the application service, depending on the seasonal work load and the schedule of the committee members. While the Letter Packet doesn't need a letter to be written, the materials are forwarded to the application services in the order in which they are approved and ready by the Committee.
You'll Also Need Money (Because there's a cost to the application process)
Medical school is expensive! Fortunately, the application fees are less prohibitive, but they still add up, and need to be considered in your application process.
For the current 2023 application cycle, the amcas application fee is $170 for the first school, and $40 for each additional school.
Secondary application fees can range from $0 to $200 or more per school, so those need to be considered as well.
Added to those costs are the registration fee for the MCAT (~$300), MCAT study tools, application tools and guidebooks, travel to interviews, transcript fees, and other such costs.
The AAMC's Fee Assistance Program assists MCAT examinees and AMCAS applicants who, without financial assistance, would be unable to take the MCAT exam or apply to medical schools that use the AMCAS application.
AAMC also has tools on its website to help students with money management and managing student debt.